PAYMENT METHODS.
Officemart Ltd offers three different payment methods M-Pesa, iPay and Bank Transfer at the checkout stage. Listed below are the step by step process on the payment for each payment method. In case of any query do not hesitate to contact our customer services for more information.
Mpesa Express: Making payment through Mpesa has been made easier by the introduction of Mpesa Express (STK Push) payment method. All you need to do is to place and confirm your order, confirm your mobile number and press "Pay" to generate a payment request to your phone. An Mpesa prompt will appear on your screen to input your Mpesa pin to complete the transaction.
It's Simple, It's Easy and It's Safe.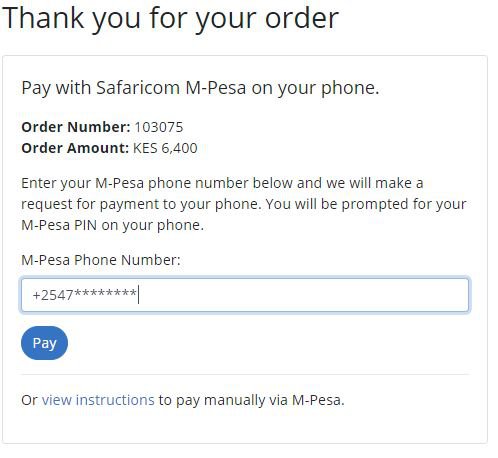 We still offer Mpesa payment through our Pay Bill number: 958600. In order to make a payment using Pay Bill option, please go through the following steps:
Go to the M-PESA menu on your phone
Select Pay Bill.
Enter Business Number 958600
Enter Account Number –this is your order number.
Enter the Exact Amount being charged for the order.
Enter your PIN and then send money.
You will receive a transaction confirmation SMS from M-PESA and your order will be processed.
iPay (Card Payment and Mobile Money): Your security is important to us and we take it very seriously. Every credit card transaction occurs within a secure environment. We do not retain any credit card information after your order is completed; it is submitted directly to our banks.
Pay with your Visa, MasterCard, American Express and other mobile money options available in Kenya easily and securely. To ensure the transaction is successful, check with your card issuer or bank to make sure your card has been enabled for online transactions.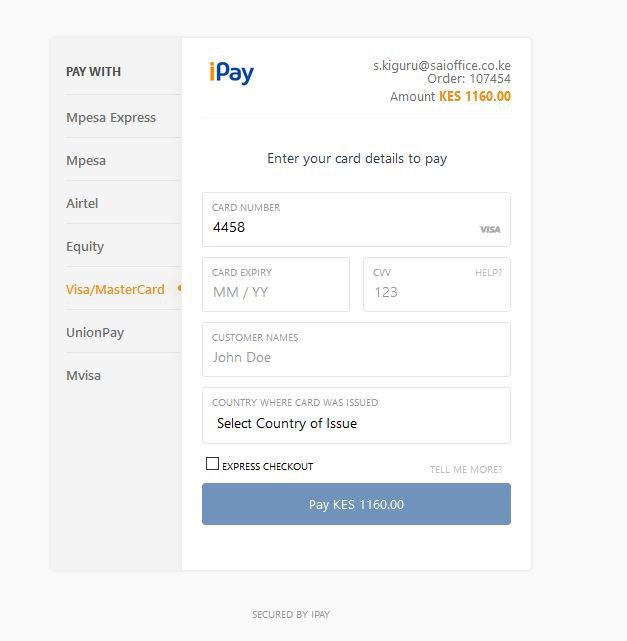 Bank Transfer:
We offer direct bank deposit/transfer to our bank account. Please note that we need Proof of Payment to verify your transaction. Use the below transfer details to complete the transaction:
Reference: Your Order Number.
Amount: Your order amount.
Account Name: SAI OFFICE SUPPLIES LTD
Account Number: 00100207321201
Bank Name: I & M Bank Limited.
Branch Name: Kenyatta Avenue.
Swift Code: IMBLKENA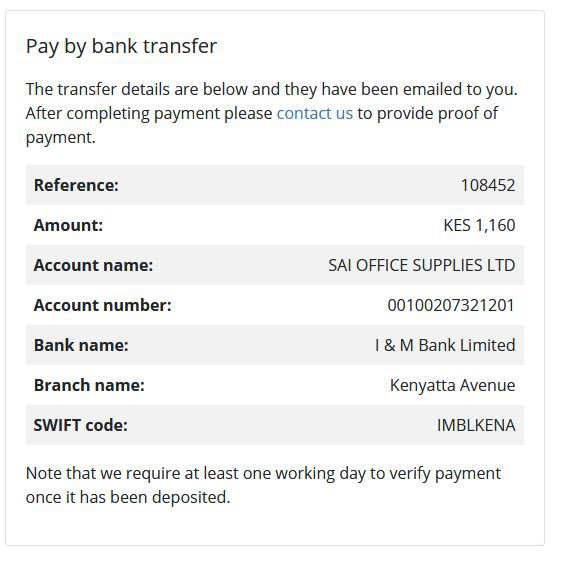 After you transfer money to our bank account, kindly contact our customer service to provide proof of payment and your order will be processed and dispatched.
Cash On Delivery(COD) - Unfortunately, we do not accept payment on delivery. You are required to make full payment for your order to be processed and be dispatched.
---
SHIPMENT
Shipping fee: Officemart Ltd. Offers the best online shopping experience at every step when placing your order. The experience is extended to our shipment services for we offer no fee for pick up orders at our branches and free shipping for all orders of above 2,000 Ksh all over Kenya. For orders below 2,000 Ksh, we offer a standard fee of 250 Ksh for shipment countrywide.
Delivery Time-frames: Goods will be sent to the delivery address given when order was made. Your order will be delivered within 72 Hours after the payment is confirmed unless a prior communication is made from our delivery team. This applies to orders confirmed on working days i.e. Monday to Friday. For orders placed on Weekends or Public Holidays, they will be processed on the next Working Day. For example, orders placed on Saturday and Sundays will be processed on Monday if it is not a public holiday.
*NOTE: that the shipping time-frames are estimates and not guarantees but Officemart will communicate in advance and advice the client accordingly.
*NOTE: For some upcountry deliveries, a client might be required to collect his/her order at Courier offices. Some courier services we use do not offer door to door deliveries in some areas.
Once your order is ready for pick up in our branches, you will receive a call from the selected Branch's Manager informing you when you can pick your order. To avoid frustrations or coming and waiting for long periods, please wait for the Branch's Manager to call you or you confirm with him/her before going to pick your order from the selected branch.
Note below are the working hours for each branch to avoid inconveniences when picking up your order or when visiting our stores for shopping.
Also note due to government measures to curb the spread of Covid-19, the store timings have been affected. Updated Working hours for Officemart Branches are as below:
Harambee, Kenyatta 1, Kenyatta 2, Highway, Gateway, Westlands, Mombasa, Kakamega, Kisumu 1 and Kisumu 2

Mon to Friday – Opening 8:00 am. Closing 5.30 pm      
Saturdays – Opening 8:00 am. Closing 2:00 pm
Sundays and public holidays – Closed (except Kisumu 1)

Yaya

Monday to Saturday – Opening 9.30 am. Closing 6:00 pm
Sundays – Opening 10:00 am. Closing 5:00 pm
Public Holidays – Based on the management decision  

Junction

Monday to Friday – Opening 9:00 am. Closing 6:00 pm  
Saturdays – Opening 9:00 am. Closing 4:00 pm
Sundays – Opening 10:00 am. Closing 4:00 pm
Public Holidays – Based on the management decision          

TLC

Monday to Friday – Opening 9:00 am. Closing 5.30 pm  
Saturdays – Opening 9:00 am. Closing 2:00 pm 
Sundays and public holidays – Closed   
Product Review & Refund
After your order is delivered, we would value your feedback and review to help us improve our services and serve you better next time. This will also help other customers have a better understanding of the product they are purchasing from us. In case you are not satisfied with your package, kindly consult our refund policies below.
---
REFUND POLICIES
Officemart Ltd. gives 7 days for a refund if you're not satisfied with your purchase due to an error on our part or if the product doesn't arrive 30 days past the estimated delivery date as communicated by our delivery team.
Any product that is purchased from our website of the international brands and is to be returned, it will go through the brands return and exchange policy. In this case please expect the timeline for the same to be 10-15 working days after refund Approval.
1) Incorrect or Damaged Product.
If your return is as a result of our error, you are qualified for a full refund of the purchase price, including shipping fee incurred. To receive refund, please contact our customer service and start the refund process and make sure the item or package directly gets to us within 7 days after starting the refund process.
2) Product did Not Arrive.
If the product doesn't arrive 30 days past the estimated delivery date as communicated by our delivery team, you are eligible for a full refund of the purchase price, including shipping fee incurred.
In cases where a package is returned to us for any of the following reasons, the refund price includes product price only. These reasons are incomplete address, unclaimed, returned to sender, or similar.
3) Other Refund Policies.
Items should be unused and must be returned in original packaging with any enclosed documentation that were included in the package. Provide a receipt for us to issue a refund as indicated on the receipt which WILL NOT include the original delivery charge. Alternatively, if preferred, we will exchange the item.
The item is your responsibility until it reaches us during the refund process. Use a delivery services that will insure you for the value of your item for your own protection
A refund will be made, inclusive of delivery or shipping fee if the product or item delivered is faulty. The cost incurred when returning the item to us is your responsibility.
We do not refund shipping costs – Mpesa Charges or credit card fees. They will be deducted from the total amount of your refund.
For a successful refund, either partial or full, the transaction fees incurred by Officemart Ltd. will be deducted from the refund amount.